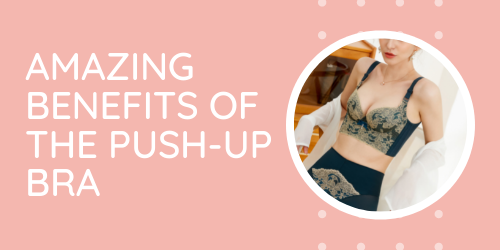 Push-up bras are one of the most sought out yet misunderstood bras in the lingerie world. Many women own a push-up bra because it helps them add spice to their outfits and also gives them a little help with the girls. On the other hand, many women also avoid them because they fear the boob spillage and also the overly push-up effect.
Women with fuller and larger breasts tend to stir away from push-up bras for many reasons, one being that their breasts will look inappropriately larger or that push-up bras are just plainly uncomfortable.
To fully debunk and understand the push-up bra, we must first know what it is and it's true purpose
What is a push-up bra?
A push-up bra is a type of bra that is designed to provide support and lift while naturally enhancing the appearance of your breasts by pushing your breasts tissues inwards towards the center of your chest. The bra is embedded with foam pads that rests at the bottom and sides of the cups. With the support enhancers, the bra gives a pushing effect hence the name. The pushing effect will "push" your breasts inwards creating a rounder and fuller shape as well as accentuate your cleavage 
Benefits of a push-up bra
Despite all the myths surrounding the push-up bra, this bra has many benefits that can help you out when you pick your own push-up bra.
Looks good on women with smaller breasts
Push-up bras are great for women with smaller breasts because it will make their breasts fuller and help enhance the appearance by making the breasts look bigger.
Offers great support for women with bigger breasts
Yes, push-up bras do make your breasts look bigger but that doesn't mean that women with bigger breasts can't wear one. Women with bigger breasts tend to wear push-up bras for the extra support. The additional support from the paddings helps lift and shape the breasts while lessening the pressure on the shoulder straps.
Gives a natural lift effect
If you purchase the proper size and style for your body type, push-up bras will always give you a natural lift effect. The extra support from the push-up bra will lift and shape your breasts giving you a natural looking cleavage.
Shapes and holds your cleavage
Push-up bras are best paired with low-cut neckline tops. Well designed push-up bras will naturally lift and shape your breasts which accentuate your cleavage. The extra support of the push-up bra will hold your breasts together for a flattering and defined appearance.
Enhances body posture
Believe it or not but many women suffer from improper postures because of their breasts. With the support of a push-up bra, many women are somewhat forced to walk upright which helps them improve their posture. It is honestly impossible to slouch when you wear a push-up bra. Your shoulders will automatically be thrown back to enhance the push-up effect.
Gives you a flattering silhouette
Push-up bras will not only enhance the appearance of your breasts but also your body. This bra will help define your waist and contour your sides giving you that perfect hourglass silhouette. 
Works with all outfits
Wearing a push-up bra will give you a wider range of outfits to choose from. You can pair it with a plain white shirt or a low-cut neckline dress. With the flattering silhouette that a push-up bra gives, The possibilities are endless!
Helps boost your confidence
Push-up bras are a well known secret weapon of women to boost their confidence. It helps enhance the appearance of their breasts and cleavage as well as prevent saggy breasts. No more discomfort and worries. With the combination of a good posture, the effects of the push-up bra will help boost your natural curves and of course your confidence.
Still not convinced?
The push-up bra is more like a category of bra rather than a style and a huge range in design. A push-up bra can come with underwire or can be wireless. Push-up bras are not meant for just smaller busts but for all women. It might not be the number one pick by most women but it is for all women regardless of breasts size. In Bradoria, Push-up bras are a tool to restore the youthful look of your breasts, and provide full support for your all day activities. In order to have the best result, each individual bra has to be properly fit considering its fabric, cutting and design. The correct way of wearing bra also is a key to achieve the best result you need.
We have a team of fitting experts ready to help, a team won't just talk about sizes, but all other aspects of caring for your own body.